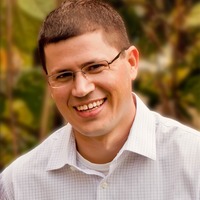 Awards
President's Award for Excellence in Teaching and Learning Technology (2021)
About Justin Hodgson
Justin Hodgson earned a B.A. in English from Illinois College, Jacksonville, IL, M.A. in English from Southern Illinois University, Edwardsville, IL, and Ph.D. in rhetorics, communication and information design from Clemson University, SC. Hodgson taught at Southern Illinois University, Southwestern Illinois College, and Clemson University before accepting his first tenure position at the University of Texas at Austin as assistant professor of rhetoric and writing. He joined the IU Bloomington faculty in 2013 as assistant professor of English, earning tenure in 2019 as associate professor of English.
Hodgson has continually developed expertise in learning technology becoming an Adobe Education Leader in 2018, Creative Campus Digital Literacy Thought Leader in 2019, and Master Teaching in 2020. He is the founding editor of The Journal for Undergraduate Multimedia Projects and has served as the director of the IU Online ENG-W131 course since 2015. He is the author of Post-Digital Rhetoric and The New Aesthetic and has authored or co-authored multiple peer-reviewed articles and book chapters. Hodgson has shared his expertise with hundreds of research presentations, workshops, interviews, consultations, and white papers, guides and instructional assets.
Hodgson is the recipient of the IU Trustees Teaching Award in 2015 and the President's Award for Excellence in Teaching and Learning Technology in 2021.