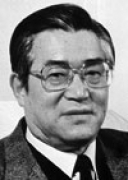 Awards
Thomas Hart Benton Mural Medallion (1986)

Seminar for American and Chinese University Presidents
Indianapolis, Indiana
Presenter: John William Ryan
About Qu Qinyue
Qu, Han nationality, is a native of Muping, Shandong Province. He was born in 1935. He graduated from the Astronomy Department of Nanjing University in 1957 and began to teach at astrophysics shortly thereafter. He holds the title of astrophysicist.
Qu, a highly respected astrophysicist, was a university administrator. His work on astrophysics attracted early National and international attention, notably such works as "A Textbook on Common Astronomy," "Stellar Atmospheric Physics," and "Theory of Radiation in Celestial Mechanics." He advanced rapidly in the academic world of his alma mater, Nanjing University, holding a series of positions from professor of astrophysics to president of the university. A respected member of state scientific commissions, he held important roles in the Chinese Academy of Sciences. His National and international awards are myriad, including several from the State Education Commission and three honorary doctorates from U.S. universities.
Qu was a member of the standing committee of the 9th CPPCC National Committee and vice-chairman of the standing committee of the Jiangsu Provincial People's Congress.