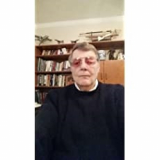 Awards
Thomas Hart Benton Mural Medallion (1992)

Bloomington, Indiana
About Thomas R. Yarborough
Thomas "Tom" Yarborough is a military historian, author, and a United States Air Force (USAF) retired colonel. He served in the USAF for nearly thirty years in a variety of flying and staff assignments. He served as an air attaché at the American Embassy in Bangkok, a liaison officer to the State Department in Washington, D.C., and logged more than 1,500 combat hours as a command pilot. During his two Vietnam tours as a forward air controller (FAC), he earned thirty combat decorations, including the Silver Star, the Distinguished Flying Cross, a Purple Heart, an Air Medal, and the Vietnamese Cross of Gallantry.
After retiring from active duty, Yarborough joined the academic community as a department chair and professor of aerospace studies at IU, and as an adjunct history professor at Northern Virginia Community College.
Yarborough is the author of Da Nang Diary: A Forward Air Controller's Gunsight View of Combat in Vietnam with SOG (Casemate Publishers, 2013), which was awarded the Military Writers Society of America's Gold Medal Best Memoir for 2014, and A Shau Valor: American Combat Operations in the Valley of Death, 1963-1971 (Casemate Publishers, 2016), which was a finalist for the Army Historical Society's Distinguished Writing Award in 2016 and awarded the Military Writers Society of America's Gold Medal for History in 2017.
Yarborough currently lives in Springfield, Virginia, where he lectures and writes articles and historical fiction. His articles have been published in scholarly journals, such as WWII History, Journal of American History, Vietnam, Aviation History, and The Supreme Court Historical Society Quarterly.