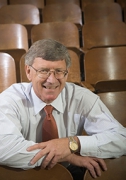 Awards
Thomas Hart Benton Mural Medallion (2005)

Retirement
Bloomington, Indiana
Presenter: Adam W. Herbert
About Trevor R. Brown
Trevor R. Brown served as dean of IU's School of Journalism from 1985-2005, having begun work there as an assistant professor in 1972. Prior to that, he taught at the University of Cape Town in South Africa and worked as a reporter and columnist for South Africa's Cape Times. He holds a Ph.D. in communications-public affairs from Stanford University, as well as master's and bachelor's degrees from Oxford University, where he was a Rhodes Scholar.
Brown was instrumental in making the IU School of Journalism an independent unit within the university and in revamping the curriculum to ensure that graduates would be prepared for the technological demands of the 21st century. In 1995, he secured a six-year, $1.5 million grant from the Knight Foundation for an innovative program to bring professional journalists into a graduate program emphasizing "new media" technology. While helping Indiana faculty master the new technology, the graduate students learned to teach and do research, preparing them to be the next generation of journalism professors.
Brown's influence on campus has been wide-ranging. He has served as associate dean of the College of Arts and Sciences, on search committees for deans of other professional programs, and on the selection committees for the Rhodes, Marshall and Churchill scholarships. His contributions to the profession also are significant. Brown is chair of the accrediting committee for the Accrediting Council on Education in Journalism and Mass Communication, the body responsible for accrediting schools of journalism, and has chaired site-visit teams for 13 universities. He also is a member of the board of trustees of the Poynter Institute for Media Studies in St. Petersburg, Florida.