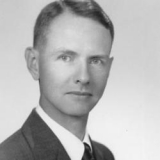 Awards
Guggenheim Fellow (1950)
About Aubrey Diller
Aubrey Diller joined the IU Bloomington faculty in the fall semester of 1938 as an assistant professor of Greek in the Department of Classical Studies. He received both a Bachelor of Arts (1925) and Master of Arts (1927) from the University of Nebraska and a doctorate from the University of Illinois (1930). He was an instructor of Greek at the University of Michigan from 1930 to 1934, received an American Council of Learned Societies Research Fellowship in 1936, and was an instructor at Heidelberg College in Tiffin, Ohio from 1936 to 1938. He was appointed to the Graduate School faculty in 1938, promoted from assistant to associate professor in 1948, and promoted from associate to full professor in 1954. He retired in 1968 with the title of professor emeritus of classics after 30 years at IU.
According to Mark L. Sosower (distinguished professor of classics, NC State), "Diller's work on the textual transmission of the Greek prose authors (especially the geographers), his contributions to palaeographical theory, and studies in the history of classical scholarship rank him as one of the preeminent codicologists of the 20th century. Personally very modest, he generously advised distinguished scholars as well as beginners in the discipline. Diller was a dedicated naturalist and ardent conservationist, who was devoted to his adopted state and to Indiana University."
Diller received an American Council of Learned Societies Research Fellowship in 1936. He also received a John Simon Guggenheim Fellowship in classics in 1950 and took a leave of absence for the 1950-1951 academic year to do his research. He took another leave of absence during the 1960-1961 academic year to accept a visiting scholar appointment at the Dumbarton Oaks Research Library in Washington, DC.
Diller passed away on September 6, 1985.