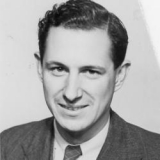 Awards
Guggenheim Fellow (1968)
Guggenheim Fellow (1953)
About Brian H. Mason
Brian Mason began his academic career at IU Bloomington as associate professor of mineralogy in the Department of Geology in 1947. He resigned as associate professor of geology at the end of the 1952-1953 academic year after six years. Mason received an undergraduate degree from Canterbury University College in 1936 and master's degrees in chemistry and geology in 1939. He was awarded a postdoctoral scholarship to study geochemistry at the University of Stockholm and received his Ph.D. from there in 1943. He returned to Canterbury University College as a lecturer for two years before coming to the U.S. to teach at IU. He was appointed curator of mineralogy at the American Museum of Natural History in New York in 1953. From 1965 to 1984, he was the curator of meteorites at the Smithsonian Institute in Washington, D.C. He retired in 1984 but held an emeritus position at the Smithsonian for the next 17 years.
Mason received two Guggenheim Fellowships in Earth Science, once in 1953 and again in 1968. He is also a recipient of the Leonard Medal from the Meteoritical Society (1972), an honorary fellow of the Royal Society of New Zealand (1984), and a recipient of the Roebling Medal from the Mineralogical Society of America (1993). He has the recognition of having two minerals and an asteroid named after him: brianite, stenhuggarite, and asteroid 12926Brianmason.
Mason passed away in Chevy Chase, Maryland, on December 3, 2009.