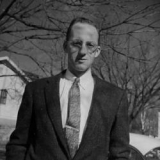 Awards
Guggenheim Fellow (1957)
About Charles W. Hagen, Jr.
Charles Hagen did his undergrad at Cornell University in 1939 before obtaining a Ph.D. in Botany from IU Bloomington in 1944. He worked as a graduate assistant at IU from 1939 to 1945, as an instructor in the Department of Botany in 1946, as an assistant professor of botany in 1947, an associate professor of botany in 1951, and became a full professor in 1959. He was appointed chairman of the Executive Committee of the Division of Biological Sciences (1964), associate dean of the College of Arts and Sciences (1965-1966 ay), acting chairman of the Department of Botany (first semester, 1965-1966), associate dean of the faculties (1966), associate dean for academic affairs and facilities planning (1969), dean for resource development (1972), and director of long range planning (1975). He spent his entire academic career at IU. He retired in 1983, and later that same year, was named professor emeritus of biology.
Hagen's contributions to IU are numerous. Even after retiring, he remained chairman of the Arboretum Planning Committee until 1989. He served on planning and building committees for the Wells Library before helping to develop the Arboretum next to the library on the site of the old stadium. He used his botanical expertise to help determine which specimens would be best for Bloomington's climate, researched arboretums around the world, and began a program of seed exchange with the Beijing Botanical Garden in China.
Hagen was awarded a John Simon Guggenheim Fellowship in Plant Science (1957), a Fulbright Fellowship as a research scholar to study botany at the Imperial College of Tropical Agriculture in Trinidad (1957-1958 ay), and was a consultant with Educational Projects, Inc. in Marawi City in the Philippines (September 1967).
Hagen passed away at age 78 on November 5, 1996.