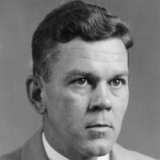 Awards
Guggenheim Fellow (1960)
About Frank N. Young, Jr.
Frank Young was appointed to the IU Bloomington faculty as an assistant professor of zoology in 1949. He was promoted to associate professor in 1953, and to full professor in 1962. He taught at IUB for over 35 years, retiring as professor emeritus of biology in 1985. Young obtained a bachelor's with honors in 1938, a master's in 1940, and a doctorate in 1942, all from the University of Florida. After he graduated, he enlisted in the Army during World War II, serving in the Malaria and Sanitation Survey Unit (1942-1946). He remained in the Army Reserves even after discharge and retired in 1974. His first teaching position after the war was as an assistant professor of biology at his alma mater, the University of Florida (1946-1949). He then came to teach at IU in 1949.
Young's research focused primarily on water beetles, as seen in his best-known monograph on The Water Beetles of Florida (University of Florida Press, 1954), but he was also interested in and taught courses in ecology, entomology, and parasitology. He was a prolific author, writing on herpetology, malacology, ecology, general natural history, and entomology.
Young was a member of the Royal Entomological Society, the American Association of Applied Science, and the American Institute of Biological Science. He was named an Indiana Academy of Science Fellow in 1955, an E.S. George Fellow at the University of Michigan, and a Louisiana State University Fellow in Tropical Medicine. He received a John Simon Guggenheim Memorial Foundation Fellowship in Organismic Biology and Ecology to do research at the British Museum (Natural History) (now Natural History Museum) in London in 1960.
Young passed away in Bloomington, Indiana, on June 12, 1998.