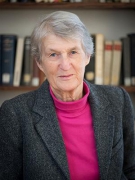 Awards
Guggenheim Fellow (1986)
About Katerina Clark
Katerina Clark was named the B.E. Bensinger Professor of Comparative Literature and of Slavic Languages and Literatures at Yale University in 2019. She is also chair of the film and media studies program and director of undergraduate studies in film and media studies. She received a Bachelor of Arts with honors (1963) from Melbourne University, a Master of Arts with honors (1967) from the Australian National University, and a Master of Philosophy (1967) and a Doctor of Philosophy in Russian Literature (1971) from Yale University. Aside from IU Bloomington, Clark has taught at the State University of New York-Buffalo, Wesleyan University, the University of Texas-Austin, and the University of California-Berkeley.
At IU Bloomington, Clark was an assistant professor of Slavic languages and literatures part-time in the Department of Slavic and East European Languages and Cultures from 1980 to 1983. She was promoted from assistant to associate professor in Slavic languages and literature in 1983 and was an associate professor of Slavic languages and literatures part-time from 1983 to 1986. While at IU, she received an American Council of Learned Societies Fellowship to do research in the U.S.S.R. during the 1983-1984 academic year and was awarded a John Simon Guggenheim Fellowship in Russian history in 1986.
According to Clark's department bio, her research interests include "Russian culture of the twentieth century (literature, theater, film, art and architecture, opera, linguistics and scientific thought) with emphasis on the 1920s, the 1930s and the recent period." She is currently teaching classes at Yale while writing and doing research. Her book, Moscow, the Fourth Rome: Stalinism, Cosmopolitanism and the Evolution of Soviet Culture, 1931-1941, was published in 2011 and has received the Historia Nova Prize, the Vucinich Prize honorable mention, and the Heldt Prize honorable mention.