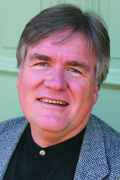 Awards
Distinguished Professor (2020)
Bicentennial Medal (2020)
Andrew Carnegie Fellows (2016)
Titled Professor (2006)

John Kimberling Chair of Law
About Charles Gardner Geyh
Charles Gardner Geyh is the John F. Kimberling Professor of Law at the Indiana University Maurer School of Law. His work on judicial politics, ethics, independence, and selection has appeared in over 80 books, articles, book chapters, and other publications. He is the recipient of an Andrew Carnegie fellowship, which culminated in the publication of his most recent book, Who Is to Judge: The Perennial Debate Over Whether to Elect of Appoint America's Judges (Oxford University Press 2019). He has testified before Congress numerous times served as the academic reporter to four American Bar Association commissions, and consulted for federal, state, and foreign governments on matters of judicial ethics, discipline, impeachment, and independence.
Geyh received his B.A. in Political Science from the University of Wisconsin in 1980 and graduated from the University of Wisconsin Law School in 1983. He then clerked for the Honorable Thomas A. Clark on the United States Court of Appeals for the Eleventh Circuit, worked as an associate at the Washington, D.C., law firm of Covington & Burling, and served as counsel to the United States House of Representatives Committee on the Judiciary before beginning his teaching career in 1991. He joined the Indiana University law faculty in 1999 and has served as the law school's associate dean for research. He is the recipient of three faculty fellowships; three Trustee's Teaching Awards; the Wallace Teaching Award and the Gavel Award (for outstanding contribution to the graduating class) from the law school; and the Black Law Student Association's Outstanding Interactive Professor Award.
Geyh received the IU Bicentennial Medal in August 2020 in recognition of his distinguished contributions to Indiana University.