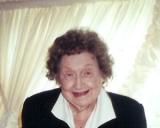 Awards
Distinguished Alumni Service Award (1995)
About Betty D. Dukes
For nearly 50 years, the husband and wife team of Joseph Dukes and Betty Dickerson Dukes provided health care for the residents of Sullivan County and western Indiana.
Betty Dukes came to IU with a four-year scholarship and worked her way through undergraduate and medical school. She was named to honorary societies including Phi Beta Kappa, Mortar Board, and Alpha Omega Alpha. She settled in Dugger with her husband and young sons, and they began their family practice. By the time of her retirement in 1991, this gentle, lively woman had delivered more than 12,500 babies to three generations of mothers, had led the development of special education programs in Sullivan County, and was board member and president of mental health and medical associations in Indiana.
She was named Physician of the Year by the Indiana State Mental Health Association, was honored as Woman of the Year by the Indiana Federation of Business and Professional Women, and is a Sagamore of the Wabash. She has been a member of the Riley Memorial Association board of governors for nearly 20 years and was chairman of the board of the Indiana Medical Peer Review Organization from its inception in 1972 until her retirement in 1991.