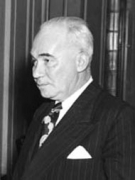 Awards
Distinguished Alumni Service Award (1965)
About C. Walter McCarty
C. Walter "Mickey" McCarty was born on May 30, 1891 in Washington, Indiana, the son of Washington's Mayor. It was during high school that he developed a love for writing, and after taking a job as a journalist for Washington's newspaper, he decided that he needed to devote his life to it.
Mickey attended Indiana University and, naturally, majored in journalism, working for the University's paper, The Indiana Daily Student, as Editor-in-Chief.
After graduating from Indiana University, he served a short period with the Indiana bureau of the Associated Press. By 1914, he was working on The Indianapolis News staff as a police reporter, and in 1926 he was promoted to City Editor. Following that, he was given the role of Assistant Managing Editor, and in 1934, he rose to the rank of Managing Editor. It was during this time that The Indianapolis News was awarded the Pulitzer Prize in journalism.
In 1944, Mickey was made President and Publisher of The Indianapolis News, and that same year was named President of Indianapolis' new radio station WIBC. In 1948, the merger of The Indianapolis News and The Indianapolis Star saw Mickey fir to be Executive Editor, and soon his new column for the enterprise, "Mickey McCarty Says," was one of the paper's most popular.
A loyal alumnus and staunch supporter of education Mickey served as a member of the Indiana University Board of Trustees from 1945 until 1962. He received the University's Distinguished Alumnus Award in 1965. That same year, he was given the Indianapolis Press Club's "Newspaperman of the Year" citation at the Front Page Ball.
Mickey was known as a master in his field, developing a reputation as a commanding and eloquent communicator, a respected and well-admired wordsmith. He was described as a man with kindly and understanding spirit that drew to him a myriad of friends who were warmed and inspired by his keen intellect and penetrating wit. He was reportedly a widely sought-after toastmaster, and more than once was said to have turned down offers to run for mayor from both the Republican and the Democratic political parties.
Mickey was married to his wife Nora with whom he had a daughter, Sheila Johnson and two grandchildren, James Robert and Deborah. He passed away June 23, 1965.