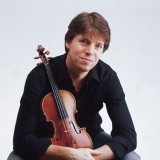 Awards
Grammy Award (2000)

Best Instrumental Soloist Performance
Performance: Maw: Violin Concerto
Distinguished Alumni Service Award (1991)
About Joshua D. Bell
Joshua Bell is recognized as one of the world's outstanding young violinists. His talent was recognized early by his musically inclined parents, and he was placed in the Young Violinists Program at the IU School of Music, where his progress was so extraordinary that he was soon accepted as a special student by Distinguished Professor Emeritus of Music Josef Gingold.
The young artist began his professional career at 14, when he played with the Philadelphia Orchestra, and soon after toured Europe with the St. Louis symphony. He continued to attend public school through high school, but spent half-days at the School of Music, zealously devoting himself to mastering the violin. He was awarded the Artist Diploma by Indiana University in 1989, and began his career in earnest, pursuing a full schedule of concerts in the great music centers of the world. This uncommonly self-confident, elegant young man plays with complete clarity of tone, perfect control of technique and intonation and amateur interpretation of his music.
Offstage, Bell is quiet and unassuming, leading a full and varied life, charmingly modest about his achievements and dedicated to the further perfection of his skills. He is a splendid ambassador for Indiana University and the School of Music, and he will bring them honor and distinction through all his days as he widens his horizons in music.