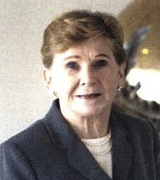 Awards
Distinguished Alumni Service Award (1999)
College of Arts and Sciences Distinguished Alumni Award (1985)
About Pauline Jontz Lennon
Polly Jontz Lennon transformed Connor Prairie, a small historic site north of Indianapolis, into a living history museum complex with a national reputation, over the course of just fourteen years. From 1982 to 1996, annual attendance figures tripled, membership quadrupled, and the collection of artifacts increased by 5,000. Mrs. Lennon created the Pioneer Adventure Area, restored the Golden Eagle Inn, and developed the natural history education center, Prairie House, the museum center, and the amphitheater used for Symphony on the Prairie. She has been president emerita of Connor Prairie since her retirement.
Mrs. Lennon graduated from IU in 1949 with a bachelor's degree in journalism and political science. Her professional activities have included copy editing for the Indianapolis News, lecturing at IUPUI and for the Lilly Endowment, and providing public relations and development consultation to various philanthropic and public service organizations. For 19 years she was public relations and development director of the Indianapolis Children's Museum. In 1982, Lennon moved to Conner Prairie and transformed it into a major Indiana attraction with a national reputation. Annual attendance figures tripled under Lennon's leadership, and membership quadrupled. Its collection of artifacts increased in size from 12,000 to 17,000.
In addition to being inducted into the Indiana Academy, she has received numerous awards including the Hoosier Heritage Award for Lifetime Achievement, Distinguished Service Award from the Midwest Museums Conference, Distinguished Alumni Award from the IU College of Arts and Sciences Alumni Association, Silver Anvil Award from the Public Relations Society of America, and the Clarion, Matrix, and the Frances Wright awards from Women in Communications, Inc.