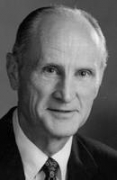 Awards
Distinguished Alumni Service Award (1998)
Kelley School of Business Academy of Alumni Fellows (1983)
About Robert C. Haugh
IU's successful hosting of the 1997 NCAA track and field competition was made possible by Robert C. Haugh whose generosity financed the renovation of the outdoor track and field complex that now bears his name. This outstanding facility earned high praise from the participants, coaches, and NCAA officials. His loyalty and enthusiasm for Indiana University most recently has been directed at co-chairing the 1948 Class Campaign to underwrite the Herman B Wells Endowed Professorship, the most ambitious class campaign to date. He and his wife, Barbara, also provided the funds for the plaza of the Virgil T. DeVault Alumni Center.
Though his degree is in history, he directed his career at the business world: first with U.S. Gypsum, then Modernfold, and finally with the Overhead Door Company (now Dallas Corporation) from which he retired as president and CEO in 1990. He then held the title of vice chairman of the board. Under his leadership, Overhead Door grew from a private company of R$39 million to a New York Stock Exchange registered industry with sales of more than $400 million.
His civic activities include volunteering for Presbyterian Hospital of Dallas and holding board directorships with Baylor Hospital Foundation, Metro-Mark industries, and Parc du Lac Association. He was named to the Academy of Alumni Fellows by the Kelley School of Business in 1983 and was named an Outstanding Alumnus by Delta Upsilon fraternity in 1982. He was an avid proponent of physical fitness and demonstrates his convictions by participating in marathons in New York and Boston.