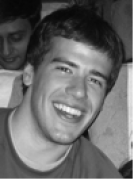 Awards
Bicentennial Medal (2019)
Stahr Senior Award (2009)
About A.D. King
Arthur "A.D." King is an alumnus and former member of the IU Board of Trustees. King earned a B.S. in finance from Indiana University Bloomington (2009). In 2007, he was appointed as the seventeenth student trustee for the IU Board of Trustees by then Governor Mitch Daniels.
During his undergraduate career, King was a member of Phi Gamma Delta, he was an active rider on the Phi Gamma Delta Little 500 Bicycle Team, and was a three year member of the Board of Aeons. During his time at IUB, he went to India with a group of fellow honors students from the Kelley School of Business and spent a summer in Shanghai, China, where he interned for a chemical coatings company. He received the Elvis J. Stahr Senior Recognition Award in 2009.
Upon graduation, King joined the Investment Banking Division of Bank of America Merrill Lynch (2009-2018) and in 2018 became vice president at Crescent Capital Group LP.
King received the IU Bicentennial Medal in September 2019 in recognition of his distinguished service as a student trustee on the IU Board of Trustees.