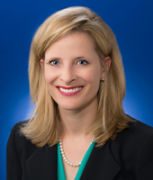 Awards
Bicentennial Medal (2019)
Stahr Senior Award (1993)
About Erin B. Huntington
Erin B. Huntington received a B.A. in Political Science and Spanish from Indiana University, and an M.A. in International Affairs from George Washington University. As a student at IU, Huntington received the Elvis J. Stahr Distinguished Senior Award, which annually honors three to five seniors who have excelled academically while serving as active student leaders. Her relationship with IU has extended past her time as a student in a variety of ways. She currently serves as a member of the dean's advisory council for the Hamilton Lugar School of Global and International Studies.
Huntington is Senior Director of payer strategy and marketing at Eli Lilly. She leads Pricing, Reimbursement, and Access strategy and marketing for Lilly USA's Managed Health Services. Her role ensures that Lilly brings together government affairs, public policy, advocacy, and communications efforts to achieve appropriate patient access to Lilly products. Additional responsibilities include managing corporate affairs and product market access for all markets outside the U.S., and PRA standards and capability development worldwide. Prior experience before joining Lilly includes serving on the staff of Senator Richard G. Lugar with a focus on foreign policy issues. Huntington also served on Lugar's Washington team.
Huntington is active in giving back to the community, and served as the Vice Chair of the Board of Directors of Girls Incorporated of Greater Indianapolis, and as a Board Member for Gleaners Food Bank of Indiana. She is vice chair of the board of URBAN ACT Academy of Indianapolis. In 2019, Huntington received Indiana University's Bicentennial Medal, in recognition of her distinguished contributions and service.