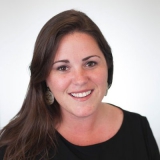 Awards
Bicentennial Medal (2019)
Stahr Senior Award (2001)
About Meredith Suffron
Meredith Suffron received a bachelor's degree from Indiana University Bloomington, a master of global management from the Thunderbird School of Global Management, and an M.B.A. from IU's Kelley School of Business. Suffron's support of Indiana University has remained strong over the years; she's served on the executive council with the alumni association and continues to support them in a variety of ways.
Suffron currently serves as director of innovation at Campbell Soup Company, where she specializes in salty snacks. Suffron's prior marketing and leadership experience includes serving in director positions at Post Consumer Brands, Merrick Pet Care, Inc., Storck, and Kraft Foods. Suffron also worked for more than a decade at Proctor & Gamble.
Suffron's volunteer and leadership experience is extensive. She serves as an alumni volunteer for IU's Alumni Association, and has been a chapter leader in several cities, including Chicago and Cincinnati. She served on the recruitment committee for the Junior League of Minneapolis and volunteered at the Leukemia and Lymphoma Society. In 2019, Suffron received Indiana University's Bicentennial Medal, in recognition of her distinguished service and contributions to the university.