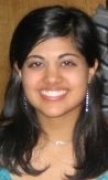 Awards
Stahr Senior Award (2009)
About Michelle Sarin
Dr. Michelle Sarin is from Carmel, IN. She graduated from Indiana University Bloomington with degrees in biology and English.
During her time at IUB, she worked as student researcher in biology, which led her to internships at the National Institutes of Health and the Johns Hopkins School of Medicine. She was a Herman B Wells scholar and an active member of her sorority, Phi Mu, where she served as philanthropy chair. She also studied abroad in Paris. She was a member and vice president of the Board of Aeons.
Michelle earned her M.D. from the University of Pittsburgh School of Medicine and is currently a resident at The Ohio State University College of Medicine in obstetrics and gynecology.