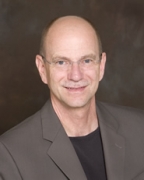 Awards
Emmy Award (2001)

Outstanding Choreography, Blast!
Herman Frederic Lieber Award (1998)
About George Pinney
Nominated for a 2001 Tony Award and National Broadway Theatre Award in choreography, George received an Emmy Award for outstanding choreography for the PBS broadcast of Blast! He was a member of the creative team, acting director and one of three choreographers for Cyberjam which opened in the West End of London. George, Professor of Theatre and Drama and Head of the B.F.A. in Musical Theatre, has directed and/or choreographed over 150 musical theatre productions for national and international tours, regional and university theatres. Recognized for his teaching, George was awarded the Friedrich Herman Lieber Award for Distinguished Teaching, 5 Board of Trustees Awards for Excellence in Teaching and membership in the Faculty Colloquium of Excellence in Teaching.