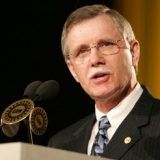 Awards
Kelley School of Business Academy of Alumni Fellows (2008)
IU Southeast Distinguished Alumni Award (2004)
About Ronald A. Gettelfinger
Ron Gettelfinger was the president of the United Auto Workers union from 2002 to 2010. While completing his business degree at IU Southeast, Gettelfinger worked full-time as a chassis line repairman at the Ford Motor Co.'s assembly plant in Louisville. He now heads the UAW -- the largest and most diverse labor union in North America with more than 710,000 members. The 1976 graduate, with a bachelor of science degree in business and a major in accounting, was elected to a second term as president of the UAW in June 2006.
Prior to being initially elected to the UAW presidency in 2002, he was the union's vice president and was director of the UAW National Ford Department. He also has directed the UAW's Aerospace Department and Chaplaincy Program. For six years he served as director of UAW Region 3, which represents UAW members in Indiana and Kentucky, before being elected a UAW vice president in 1998.
A member of UAW Local 862 since 1964, Gettelfinger served on the UAW-Ford National Negotiating Committee for the 1987 pattern-setting negotiations. He was president and chairperson of his local bargaining committee for the 1984 and 1987 local negotiations. Before then, he had served as chairperson of the bargaining committee, bargaining chairperson, committeeperson and delegate to the UAW National Ford Council, Sub-council No. 2 and delegate to three UAW constitutional conventions.
His commitment to his profession and active volunteerism earned him IU Southeast's 2004 Distinguished Alumni Award.