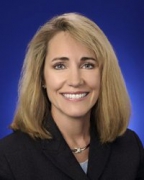 Awards
Kelley School of Business Distinguished Entrepreneur (2007)
About Catherine A. Langham
Co-founder of global logistics firm Langham, Cathy Langham focuses on business development, fast-growth strategy, and critical industry issues such as cargo security. She provides her 20+ years of logistics expertise to business leaders in a wide spectrum of industries, including pharmaceutical, food & beverage, automotive, and other industries with complex supply chains.
Prior to launching the company that bears her family name, she was a two-time franchise owner in the transportation industry. She founded Langham with her sister Margaret and their brother John, both of whom continue to be involved in the organization with her. Langham's third-party logistics company, now 18 years old, has charted double digit growth, expanded its client base around the world, and has grown to over 80 full-time employees.
As a result of her firm's experience and results, Cathy champions the financial virtues of inbound freight management. Langham argues that most corporations with complex supply chains battle with margin erosion that can be improved inside of the inbound transportation segment of the supply chain.
Langham's visibility as CEO of a fast-growing woman-owned business enterprise (WBE) earned her firm a visit from U.S. President George W. Bush. In 2005, she accepted a role on the Indiana Economic Development Corporation at the invitation of Governor Mitch Daniels.
Since 9/11, Cathy has taken an increased role in her industry's discussion of air cargo security, in particular the proactive role that indirect air carriers are taking to keep terrorism out of the sky. She speaks regularly on topics that include entrepreneurial success, small business strategy, and leadership.
As President and CEO, Cathy invests her time three ways: She devotes one-third to clients and prospects, including many Fortune 500 companies. She spends another third with city, state and national business leaders, tackling topics that include economic development, air cargo security, and business growth. She spends the final third of her time working in the day-to-day business, as well as the strategic level in her company.
Cathy is former chair of the Air Forwarders Association and will serve as the Chairperson of the Greater Indianapolis Chamber of Commerce in 2007.
Cathy's affiliations include the following:
Indiana Economic Development Corporation (IEDC) - appointed by the Governor (2005)
Indiana Chamber of Commerce - Board of Directors
Greater Indianapolis Chamber of Commerce- Vice Chairperson, Board of Directors
Air Forwarders Association-Past Board Chairperson (2004)
National Association of Women Business Owners (NAWBO)-Past Board President (2005)
Marsh Supermarkets, Inc.- Board of Directors
Regions Bank - Board of Advisors
St. Vincent's Hospital-Board of Directors
Wellness Community -Capital Campaign Co-Chairperson
Young Presidents Organization (YPO)
About Langham
Langham is a global freight management company that provides end-to-end supply chain services. Transportation services make up approximately 80% of the company's annual revenue.
Langham's exclusive service is its proprietary Inbound Freight Management program (IFM). IFM provides clients with corporate-wide information visibility that aids in real-time decision making, carrier and vendor compliance, as well as overall business process improvement. Through IFM, corporations achieve margin and efficiency gains in one of the most challenging and under-managed segments of a complex supply chain: the inbound movement of goods and materials.
Langham was founded in 1988 by sisters Cathy Langham and Margaret Langham. Brother John Langham joined the ownership team shortly thereafter. The 18-year old Indianapolis 3PL is WBENC and WBE-certified, as well as Haz-mat certified and registered as ISO 9001: 2000 Standard.
The company is headquartered in Indianapolis, IN, with a satellite office in Newark, NJ. The Indianapolis facility includes 306,000 square feet for its fulfillment and distribution services.
Langham is located at 5335 West 74th Street, Indianapolis, IN 46268. Additional information can be obtained by calling (317) 290-0227.