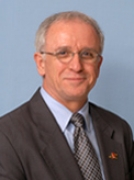 Awards
John W. Ryan Award for Distinguished Contributions to International Programs and Studies (2008)
About H. Oner Yurtseven
Before coming to IUPUI, H. Oner Yurtseven taught at the Middle East Technical University in Ankara, Turkey, where he earned his B.S. in electrical engineering in 1967. After his position in Turkey, Yurtseven taught at Johns Hopkins University, where he received his Ph.D. in electrical engineering in 1974. Yurtseven joined the faculty at Indiana University-Purdue University in Indianapolis in 1977 as a Professor of Electrical Engineering and the Assistant Dean for Academic Affairs. He was made Associate Dean in 1983, Associate Dean of Engineering in 1990, and Associate Dean of Academic Programs in 1992. In 1996, Yurtseven became the Dean and Professor of Electrical & Computer Engineering at IUPUI. He retired in 2010.
In 1994, Yurtseven was appointed the Provost of IUPUI's Malaysia Program, and became the driving force in creating a presence in the educational marketplace of Southeast Asia and in increasing the international profile of the School of Engineering and Technology. He negotiated one of the first credit transfer agreements between the University of Malaysia and an American university, and he led in the establishment of a brand new private university established by Tenaga Nasional Berhard, the nation's electric company.
Yurtseven's commitment to the school's global climate goes far beyond his long-term projects with Malaysia. The percentage of international students enrolled at the School of Engineering and Technology has more than doubled since Yurtseven became dean, and he is enormously supportive of the faculty's international programs and international recruitment efforts. The school now has formal articulation agreements with number of universities in Canada, China, France, Germany, Malaysia, Thailand, and Turkey for two-plus-two programs, as well as student and faculty exchange.
As a Professor of Electrical Engineering, Yurtseven specializes in the areas of Robotics and automation, Signal processing, Engineering and technology accreditation, and International engineering and technology education. He has published many important articles on engineering education, signal processing, control systems, and robotics.
Yurtseven is a Senior Member of the Institute for Electrical and Electronic Engineers. He is also a member of the American Society for Engineering Education, the Robotics and Automation Society, and of WICEE. He is on the editorial boards of World Transactions on Engineering and Technology Education and Global Journal of Engineering Education. He serves as program evaluator for the Accreditation Board for Engineering and Technology, ABET, Inc. Yurtseven has also been a consultant and researcher for the North Atlantic Treaty Organization (NATO), the MUCIA-Institutional Excellence Program in Pakistan, United Nations development programs in Turkey, and the Union Carbide Corporation in Indianapolis.
Yurtseven earned his Ph.D. from Johns Hopkins University as a Fulbright Scholar. In 2007, he received an honorary doctorate in engineering from the Universiti Tenaga Nasional in Malaysia.