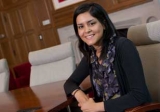 Awards
Wells Senior Recognition Award (2013)
Truman Scholarship (2012)
About Alicia Nieves
Alicia Nieves is the 2012 recipient of the Truman Scholarship. Nieves, a native of northwestern Indiana, is majoring in political science and in human migration studies through the Individualized Major Program, both within the IU College of Arts and Sciences. An IU Wells Scholar, she is the 18th Indiana University student to be named a Truman Scholar.
Growing up in East Chicago, in a family of Mexican and Puerto Rican heritage, Nieves developed a passion about issues facing undocumented immigrants in the U.S. Many of her own relatives had limited access to higher education, but strong support from her parents allowed her to find her own way to the necessary scholarships to attend Indiana University. She then reached out to others, offering a roadmap and encouragement through the HOPE College-Bound summer program.
Nieves co-founded DREAM @ IU, a student coalition that advocates for the federal DREAM Act, which would provide a pathway to legal status for qualified students. She also co-founded the Indiana Student Coalition for Immigrant Rights, a network of student groups committed to achieving equality for migrant communities. The organization worked for the DREAM Act and lobbied against anti-immigrant legislation in the Indiana General Assembly. A Hudson and Holland Scholar, Nieves was a summer intern with the IU Office of Sustainability and conducted research through the IU McNair Scholars Program on the role of media in shaping public perceptions of immigrants and immigration policy. She has worked as a resident assistant for IU Residential Programs and Services, an archivist for the IU Division of Recreational Sports and a teacher's assistant for the School City of Hammond. She was an associate justice for the IU Student Body Supreme Court. She was also a member of the Board of Aeons.
Currently, Alicia is earning her J.D. at the New York University School of Law.