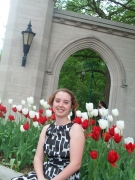 Awards
Beinecke Scholar (2012)
About Kasey Greer
Kasey Greer is a 2012 Beinecke Scholar, one of only 20 students nationwide to receive the honor. A Hutton Honors College scholar majoring in history who will graduate in 2013, Greer will also receive a certificate from the College of Arts and Sciences' Liberal Arts and Management Program offered in cooperation with the Kelley School of Business.
She is the eighth IU student to win the award, established in 1971. She plans to obtain a doctoral degree in military history. A native of Plymouth, Ind., she began her studies at IU intending to pursue a career in law after graduation, but she fell in love with history after delving into personal letters, government documents and oral histories during a course dedicated to learning about the people of the World War II era.
That led to stints as an intern at the Smithsonian Institution's National Museum of American History in Washington, D.C. -- where, among other tasks, she helped photograph a suit worn by President Lincoln and watched archivists work with the Jefferson Bible -- and as under-editor-in-chief of "Primary Source," IU's undergraduate history journal.
A Wells Scholar, Greer was one of 30 undergraduate students chosen from across the nation in 2011 to participate in a Civil War seminar at the New York-based Gilder Lehrman Institute of American History.
She's currently completing her honors thesis, which draws on archival materials to explain the experiences and motivations of Navy WAVES (Women Accepted for Volunteer Emergency Service) at the Storekeeper's School on IU's campus during World War II.