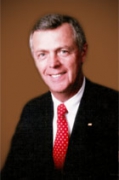 Awards
Partners in Philanthropy (2007)

Keystone Award
IUPUI Maynard K. Hine Medal (1997)
IUPUI Spirit of Philanthropy Award (1989)
About William B. Moores
William B. (Joe) Moores was born in Indianapolis, and married Ree Rice in 1959. Dr. Moores graduated from Indiana University School of Medicine in 1963. He then completed a residency in dermatology in 1968 after a one year internship at Methodist Hospital. He was board certified in dermatology in 1981.
Dr. Moores was dedicated to teaching dermatology and dermatopathology, inspiring hundreds of medical students and residents throughout his career. He was a Clinical Professor of Dermatology for many years and became the Director of Dermatopathology for the department in 2002, which he held until his passing in 2009.
Dr. Moores was presented with many awards over his 40 years as a professor, including the IUSM Certificate of Meritorious Service in 1977, Special Commendation for Teaching from the Indiana Dermatologic Society in 1987, Distinguished Teaching Award from Methodist Hospital in 1987 and 1989, Most Distinguished Medical Alumnus from IUSM in 1989, Spirit of Philanthropy Award from IUPUI in 1989, Bowen's Distinguished Leadership Award from IUSM in 1993, 1996 and 1997, Hero of Medicine from IUSM in 1995, Methodist Hospital Outstanding Physician Alumnus Award (in recognition of more than 30 years of dedicated service to the community and medical profession) in 1999 and the IU Foundation first Keystone Award in 2007.