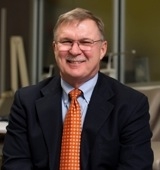 Awards
IUPUI Maynard K. Hine Medal (2005)
School of Liberal Arts Distinguished Alumni Award (2001)
About Byron B. Buhner
Byron Buhner is President and Chief Executive Officer of Indiana Blood Center with over 30 years of service, 23 as president. He is directly responsible for the administration and operation of all nine Indiana Blood Center donor centers and all related testing activities.
Byron's focus is on strategic planning, program development, capital acquisitions, policy formulation, and special services. Indiana Blood Center provides 170,000 blood components for transfusion procedures annually and is also a donor testing facility for other blood centers, screening over 340,000 donor samples per year. Revenues exceed 70 million dollars annually and Indiana Blood Center is among the top 20 community blood centers nationally. Indiana Blood Center employs over 435 individuals, each performing unique duties and responsibilities to assure a safe and uninterrupted supply of blood to over 60 Indiana hospitals.
Byron completed his Bachelor of Arts at IUPUI and his Masters of Science Degree at Indiana University, Bloomington. Byron joined Indiana Blood Center in February of 1982 serving as Associate Executive Director/COO and Administrator of the Indiana Blood Center Foundation before gaining his current position in 1988.