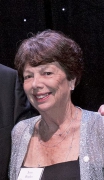 Awards
Presidents Circle Laurel Pin (2016)

Benefactor
IUPUI Maynard K. Hine Medal (2010)
About Jean C. Bepko
Jean C. Bepko, spouse of Chancellor Gerald Bepko (1987 to 2003) was an active partner on campus and a leader in the community during her husband's tenure at IUPUI and his interim presidency at Indiana University. In addition to her institutional responsibilities, Jean was an ardent supporter of the women's studies program in the School of Liberal Arts helping to establish the Friends of Women's Studies organization and chairing its board. She also helped initiate the Friends of Women's Studies Fund which provides general support to the department.
Along with her husband, she established two scholarship programs: the Arminda B. and Jean C. Bepko Scholarship award, an annual scholarship for students minoring in Women's Studies and the Jean C. and Gerald L Bepko Lifelong Learner Award in the Community Learning Network department. This award is made annually to a general education major who has overcome obstacles to obtain a degree. She has been a tireless supporter and fundraiser for the campus including helping the Herron School of Art and Design establish an endowment fund. Her "high teas" at the Chancellor's residence to raise money for various scholarships and endowment funds were memorable and successful. You will find her and her husband's name on countless donor lists among the schools at IUPUI.
Her love of literature and the arts led her to significant leadership roles in several organizations in the Indianapolis community. From 1998 - 2003, she chaired the Indiana Literacy Foundation. She also served a term as the vice president of board the Indianapolis Arts Council. For twenty-six years she has taught Sunday school at St. Luke's United Methodist Church. She also helped create the Jean Bepko Children's Resource Fund at St. Luke's United Methodist Church, an endowment fund to benefit the children's program.
In 1998 in recognition of her service to the community, Jean was named one of Indianapolis's Influential Women by the Indianapolis Business Journal. She was also the 2002 recipient of The Indiana University School of Nursing Honorary Alumni Award. Most recently, in 2010, Jean was awarded the Maynard K. Hine Medallion, named after IUPUI's first chancellor. The award is presented annually to persons who have made significant contributions in support of the campus and its alumni.