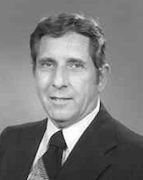 Awards
School of Dentistry Distinguished Alumni Award (1981)
About Charles W. Gish
Charles W. Gish, DDS, MSD is a retired dentist in Battle Ground, IN, known for his work in public health practice, academia, and clinical dental research. Gish attended Purdue University and the University of Notre Dame before receiving his DDS degree with Honors (1949) and a MSD (1960) from Indiana University. After obtaining his D.D.S., Gis was a Regional Dental Consultant for Region IX of the U.S. Public Health Service from 1952 to 1954. His clinical research brought him much acclaim, due to his participation in the early Crest studies, in which he was instrumental in the research and development of a preventive prophylaxis paste that was used by dental practitioners for years. Gish and Joseph Muller later developed this product into a self-applied fluoride regimen, generally referred to as "brush ins" in the late 1960s and early 1970s. In addition, he was one of the team members who worked with John Greene when the Healthy People initiative was begun in the late 1970s.
Starting in 1962, Gish was the State Dental Director for Indiana for 23 years. He also served on the faculty of IUSD for over thirty years, beginning in 1954. He co-chaired the department of community dentistry from 1969 to 1986, and was a full professor from 1977 to 1987. Gish was a strong advocate to fluoridate community water supplies in Indiana, and by the mid-1980s fluoridated water was used by 93 percent of all Indiana residents on public water supplies.
In the dental community, he was president of the Association of State and Territorial Dental Directors from 1969-1971 and received its Outstanding Achievement Award in 1986. Gish was also president of the American Association of Public Health Dentists from 1969-1970 (now the American Association of Public Health Dentistry) and received their Distinguished Service Award in 1976.