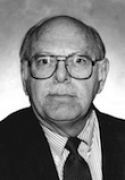 Awards
School of Dentistry Distinguished Alumni Award (1982)
About Phillip E. O'Shaughnessy
Phillip E. O'Shaughnessy joined the IPFW faculty in 1962 as an instructor at the Department of Criminal Justice. He received degrees from Indiana University (D.D.S., 1960; M.S.D., 1962) and worked as an associate professor at the Indiana University School of Medicine while maintaining a private dental practice. He was the Allen County Coroner from 1985 until his death in 2001.
He spent many years in Fort Wayne and was active in the local community. He worked with the Fort Wayne State Hospital and Training Center, Indiana State Coroner's Association, Fort Wayne Police Academy, and the Coroners Training Board. Dr. O'Shaughnessy also volunteered his time and expertise as a dentist at the Fort Wayne Rescue Mission, and served as the president of the board of directors of the Matthew 25 Clinic and the Fort Wayne Area Coordinator of Focus on Health. For his community efforts, he was awarded the Ralph E. Broyles Medal in 1997.
He was a published author with articles in various journals such as the Journal of Dental Research, Oral Surgery, Oral Medicine, and Oral Pathology, the Journal of the American Dental Association, the Journal of Dental Education, and the Indiana Dentist.