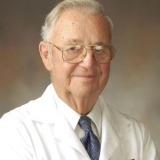 Awards
IUPUI Spirit of Philanthropy Award (2003)
School of Dentistry Honorary Member Award (1973)
About Henry M. Swenson
Of the nine men who have held the deanship at Indiana's dental school in its 132-year history, Henry M. Swenson worked with six of them, starting with Dean William H. Crawford in 1943 and ending with Dean John N. Williams Jr., midway through 2010. Dean Williams' IU career path crossed with Henry's by a mere 15 days. A few months earlier Indiana's grand statesman in Periodontics, then 93, had decided to say goodbye to his Wednesday-morning faculty commitment to the IU School of Dentistry. His retirement ended his run as IUSD's longest-serving professor.
The young Long Island, N.Y., resident and University of Illinois dental grad (1942) came to Indiana's faculty by way of the Medical College of Virginia, where he had undertaken a one-year pathology fellowship. In 1944 IU hired Dr. Maynard Hine, Henry's former mentor at Illinois, to teach periodontics and build the subject into a full-fledged department, but just one year into his tenure he himself was named dean. Dean Hine then shifted most of the duties of developing and managing IU's periodontics department to Dr. Swenson's shoulders, a responsibility the part-timer gladly accepted despite the demands of raising a young family and building a practice. The unique collaboration between the new dean and the part-time professor clicked, with the two men remaining close friends and colleagues until Dr. Hine's death in 1996. The department's administrative load was finally lifted when IU appointed Dr. Timothy O'Leary chairman of periodontics in 1973, but Dr. Swenson remained an integral part of the teaching program for decades thereafter.
In the 1960s, he spent a good deal of time in the air for IU, traveling from Indianapolis to the IU campuses at Fort Wayne and South Bend to help establish and then teach much-needed allied dental programs there. A skilled pilot who has restored eight vintage aircraft and built an aerobatic biplane from scratch in his garage and basement, Dr. Swenson usually winged it to his northern Indiana teaching assignments in his sky-blue Acro Sport, which he later donated to a museum for experimental aircraft in Wisconsin.
In the 21st century, his job at the school evolved into that of a senior adviser who lectured periodically to graduate students on such topics as practice management and the dentist's role as an expert witness in courts of law. Throughout his career Dr. Swenson has been fully immersed in the periodontics community and the specialty he loves. He didn't sell his private practice until he was 90. He co-founded the Midwest Society of Periodontology and served as president of the American Academy of Periodontology (AAP) in 1974. He holds the academy's highest honor.
In 1997, Dr. Swenson became only the second part-time IU dental professor to receive an emeritus title, an honor usually reserved for IU's full-time professors upon retirement. And the honors and accolades just keep coming-the Midwest Society of Periodontology dedicated its 2011 annual session in his honor for his work as a founding father of the organization. He himself sees nothing remarkable in his record of service to Indiana University, and brushes aside any talk of his legacy.