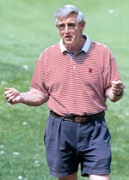 Awards
IUB Athletics Hall of Fame (2015)
Bill Orwig Award (1999)
About Sam Carmichael
Sam Carmichael, eight-time Big Ten Women's Coach of the Year, finished his 23rd and final season as Indiana's women's golf coach in the spring of 2004. Before Carmichael directed his attention solely to the women's golf program in 1998, he spent nine years as IU's men's golf coach. During his time as the men's coach, Carmichael won Coach of the Year honors twice (1991 and 1998) and the 1991 and 1998 Big Ten titles.
In the fall of 1981 Carmichael assumed the position of head coach for the IU women's team, and led the women to seven Big Ten Championships in the last 19 years, 1986, 1987, 1990, 1992, 1995, 1996, and 1998, and 12 top-three finishes in 1983, 1984, 1985, 1988, 1989, 1991, 1993, 1994, 1997, 1999, 2001 and 2004. Indiana's seven Big Ten titles rank second to Ohio State's 10 championships. During a 21-year span from 1984-2004, Indiana is the only team in the Big Ten to place among the top three 17 times.
Carmichael and the Hoosiers won their seventh conference title in 1998 with a score of 1,196, the third-lowest winning score in Big Ten history. Erin Carney, who tied for championship medalist honors, was named Big Ten Athlete of the Year, while Jennifer Seger, Michelle Hatfield, and Jenny Gray were All-Big Ten. Carmichael's IU women's teams have earned automatic berths to the NCAA Tournament eight times since 1981. The Hoosiers have finished 11th in 1985, 12th in 1986, 13th in 1987, 11th in 1990, 13th in 1992, eighth in 1993, 17th in 1994, fifth in 1995, and 13th in 1998.
In 1982, Jan Kleiman was the first Carmichael protégé to play in the NCAA Tournament, and he has sent several others since. In 1993, Angela Buzminski earned the highest finish ever by an Indiana golfer, placing second at the NCAA Championships. Just two years later, Erika Wicoff shot the best four-round total ever by an IU golfer, as she finished fourth at the 1995 NCAA Championship with a 288 total. Throughout Carmichael's tenure, the Hoosier coach has guided eight Hoosiers to All-American honors. Karen Dennison earned first-team accolades in 2003, joining Erika Wicoff and Erin Carney as the only Hoosiers ever to earn first-team laurels. Carmichael has also coached three Hoosiers, Redman, Buzminski, and Wicoff, onto the LPGA tour and one Hoosier, Shaun Micheel, on the PGA tour. Redman, winner of the two LPGA events, continues to stay in close contact with her former coach. Micheel, most notably, is the 2003 PGA champion. In fact, all four former Hoosier stars attribute Carmichael as being one of the most influential persons in their career. The honors for Carmichael's golfers do not stop just on the course. A Big Ten record 96 Academic All-Big Ten honors have been awarded to Indiana golfers since 1985. Dennison earned Academic All-American honors in 2003 and Academic All-Region honors in 2004.
Carmichael's list of honors is nearly as long. In addition to Carmichael's eight Big Ten Women's Coach of the Year awards he has also received NCAA Regional Coach of the Year honors four times. In 1987 Carmichael was named Indiana PGA Teacher of the Year and NCAA National Coach of the Year. He also won the National Golf Coaches Association's Gladys Palmer Award in 1994, Indiana Teacher of the Year in 1998, and was named the 1999 Professional of the Year by the Indiana PGA. Also in 1999, he was a recipient of the Bill Orwig Award.
Carmichael, a Martinsville, Indiana, native, is also an accomplished player. At his alma mater, Louisiana State, he participated on the 1960 Southern Intercollegiate and SEC championship teams. Carmichael became the second person in Indiana golf history to win the Indiana Boys State Junior, Indiana State Amateur and Indiana State Open Championships in the same year, 1960. He competed in his first Boys State Junior at the age of 10. In all, he won two State Amateur titles, two State Open titles and one Boys State Junior title. He won the Indiana State Junior Tournament, the Indiana State Amateur Tournament and the Indiana State Open in 1960. He shot a four-round score of 266, a record that still stands today, to win the Indiana State Open. Carmichael went on to play on the PGA tour from 1962-1968 and in seven national opens from 1958-1967. His achievements culminated in 1973, when he received Indiana's PGA Player of the Year Award and was inducted into the Indiana Golf Hall of Fame.
Carmichael and his brother, Ron, became co-owners of the Martinsville Country Club in 1968, but sole ownership of the course eventually went to Sam. Since his retirement, Carmichael has devoted his time to working and teaching at the course.