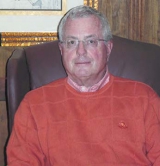 Awards
Bill Orwig Award (2006)
About Ray Tichenor
Raymond Howard Tichenor left behind a solid legacy of business leadership, civic responsibility and philanthropic generosity. Born in St. Louis, Missouri, and raised in Louisville, Kentucky, Ray made Bloomington his home for over 50 years. He attended Atherton High School in Louisville and Indiana University before he and his brother Jack Tichenor, co-founded T.I.S. Group, in 1962.
In addition to his 49 years of service to T.I.S., Ray served numerous boards, committees and organizations including Sertoma, Society of Friends of Music, National Association of College Stores, Bloomington Chamber of Commerce, Community Foundation of Bloomington and Monroe County, Bloomington Country Club, Volunteers in Medicine and Morris Innovative Research.
Together, he and his wife, Marcie, established the Jack D. Tichenor Scholarship for Indiana University Athletics, the T.I.S.-Tichenor Friends of Music Scholarship and the Ray and Marcie Tichenor Scholarship for Ivy Tech. They also established funds to support The Community Foundation of Bloomington and Monroe County, WonderLab and St. Mark's United Methodist Church. In recent years, Ray was passionate about and supportive of the work of the Bloomington Hospital Foundation including Hospice House and The Children's Therapy Clinic. Ray was a diehard fan of Indiana University Basketball and Football and he cherished working in his yard and spending time with his family, friends and colleagues.