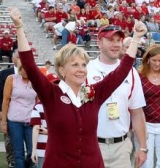 Awards
Bicentennial Medal (2019)
Bill Orwig Award (2009)
About Jane Hoeppner Hunckler
Jane Hoeppner is certainly inspiring. Many people know her as the wife of IU's extraordinary football coach Terry Hoeppner, who tragically died of a brain tumor in early 2007.
Born in Indianapolis, Jane was captivated by Terry's passion for football when they met as students at Franklin College. They went on to be married and Jane has been surrounded by football ever since. His passion translated into coaching positions at Franklin and Miami of Ohio for almost 20 years as both assistant and head coach, and culminated in the coaching job of his dreams at Indiana University.
The enthusiastic reception of the entire IU community and the hard work of the football team provided Terry with all he needed to lead them to huge success - falling only one game short of qualifying for a bowl game in 2006. While success came quickly, so did the devastating diagnosis of a brain tumor. After a battle which ran from 2006 into 2007 Terry died leaving Jane a widow.
Her continued involvement at IU cheering on her beloved husband's team as well as her support in the "Coach Hep Cancer Challenge" has all helped her cope with her loss. Looking back she says, "Had it not been for our faith, I'm not sure if we would have been able to go through it (their cancer battle) the way we did." In reflection, Jane has written a book titled Never Ever Quit: Surviving and Thriving Amidst Adversity. Her words, both written and spoken to various audiences since Terry's death, have helped thousands cope with life's struggles putting faith at its core.