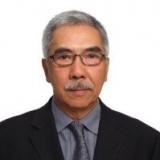 Awards
Distinguished International Service Award (2013)

Hong Kong Alumni Event
Presenter: Michael A. McRobbie
About Ali S.H. Tuet
Ali S.H. Tuet graduated from Indiana University in 972 with a BS in business. An accomplished athlete, swimming originally attracted Tuet to IU, where he joined the water polo team. During his time at IU, Tuet was also a member of the Singing Hoosiers. As a Singing Hoosiers member, he entertained audiences around Indiana, including during a performance for President Nixon.
After earning his MBA from UCLA, Tuet joined Reliance Environmental Services, his father's Hong Kong firm. In 1994, he became Reliance's chairman and joined Jardine's board of directors.
In 1997, Tuet left Jardine to found Watson Environmental Management Ltd., a company focused on serving China's burgeoning market economy. He is also the chairman of ESG Holdings Ltd., which consists of 40 companies and 6,000 employees engaged in cleaning, pest control, waste management, landscaping, and sanitation contracts across China. His companies strive for a balanced ecosystem, working to beautify corporate and public spaces and define the new China.
Despite his deep involvement in the Chinese economic and political transformation, Tuet has never stopped being a Hoosier. His son, Oscar, graduated from IU in 1998. And in 2000, Tuet joined the international committee of the IU Foundation Board of Directors.
As he looks back on a lifetime of challenge and change, Tuet says, "When I left IU, I had learned so much, not just school, but a whole experience of living in Bloomington. I have a very strong feeling that IU made a man out of me."