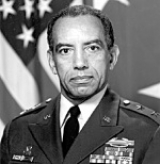 Awards
College of Arts and Sciences Distinguished Alumni Award (1983)
About Charles D. Bussey
Born December 8, 1933, Major General Charles Bussey was raised in the Washington, D.C. area. General Bussey graduated with a BS in English from A&T College of North Carolina in 1955, and received a MA in Journalism from Indiana University and a MS in Communications from Shippensburg State University in the 1970s. As an IU alum, he received the College of Arts & Sciences Distinguished Alumni Award in 1983 due to his highly remarkable career in the United States Army.
General Bussey was first commissioned as a second lieutenant of infantry in 1955 and spent his career with the United States Army, with service in the Vietnam War. He held varied command and staff posts, including troop assignments with the 82nd Airborne Division, 25th Infantry Division; 2nd Infantry Division; 1st Cavalry Division; 10th Mountain Division; 3rd Infantry Division, 4th Infantry Division, and the 172nd Infantry Brigade. From 1984 to 1987, Bussey served as the Army Chief of Public Affairs. He also served as the U.S. Army Materiel Command Deputy Chief of Staff for Personnel from October 1987 until he retired in June 1989 after 33 years of military service.
As an Army veteran, General Bussey was decorated with numerous awards and recognitions throughout his career. He received the Air Medal, two Distinguished Service Medals; two Legion of Merit awards; two Bronze Star awards, three Meritorious Service Medals, three Army Commendation Medals; the Combat Infantryman Badge; the Expert Infantryman Badge; the Basic Parachutist Badge; and the Army Staff Identification Badge. General Bussey also was awarded several foreign awards including the Republic of Korea Order of National Security Merit medal, Republic of Vietnam Gallantry Cross Unit, and the Republic of Vietnam Gallantry Cross Unit Citation with Palm.
After retirement from military service, General Bussey worked as the Senior Counsel for Manning, Selvage & Lee Public Relations and as an operations center manager for SERCO Inc., managing 53 Army Career and Placement Centers and satellites in United States and overseas. He joined the University of Maryland College of Journalism as an adjunct faculty member. General Bussey served as a former principal on the Council of Excellence in Government and he chaired the North Carolina A & T State University Board of Trustees for six years.
General Bussey passed away from pancreatic cancer on June 22, 2007.