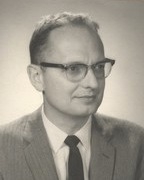 Awards
College of Arts and Sciences Distinguished Alumni Award (1984)
About Jack L. New
Jack New was the executive secretary for Governor Matthew Welsh of Indiana from 1961-1965. After working for the governor, New was elected Indiana State Treasurer for multiple terms, serving from 1965-1967 and 1971-1979.
He served in the U.S. Army both on the Europe and Pacific fronts in WWII, earning a Bronze Star for his efforts. New graduated from Indiana University in 1948 with a bachelor's degree in political science. During his time at IU, he was the president of Phi Delta Theta fraternity. He went into politics after graduation, and became the research director of the Indiana Democratic Party. New coordinated President Harry Truman's travels through Indiana in 1948 and assisted on the white hat campaign for Governor Henry Schricker before joining Governor Welsh's staff. New also ran for governor in 1976, and served as the chairman of the State Board of Tax Commissioners from 1989-1991. For his long career in Indiana politics, New received the Sagamore of the Wabash by four different governors (Welsh, Whitcomb, Bowen, and Bayh).
He also served as an adjunct professor of political science at Indiana University during the 1980s, and worked as a marketing consultant for American United Life Insurance Company. New was a lifelong member of the Greenfield American Legion #119 and the Greenfield Elks. He also owned a furniture store in Greenfield, IN. New passed away in 2008.