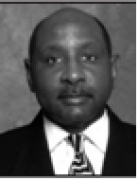 Awards
School of Public Health John R. Endwright Alumni Service Award (2002)
About Kenneth Mosely
Dr. Kenneth Mosely is a former professor of kinesiology at South Carolina University in Orangeburg, SC. He received his BS from Morgan State University in 1970, a MS from Kansas State University in 1973, and a doctorate in Physical Education from Indiana University in 1976. After his college graduation, Dr. Mosely was stationed at Fort Riley, KS in 1971, serving as an Army officer. During that time, he met Dr. Charles Corbin, the head of the Department of Kinesiology at Kansas State, who encouraged Dr. Mosely to further his studies at Kansas State and Indiana University.
Dr. Mosely joined the faculty at SCSU after graduating from Indiana University and remained there until his retirement as a full professor in 2005. During his 29-year tenure at SCSU, he published many scholarly papers and secured funding for several grants. Dr. Mosely is active in alumni activities, having established scholarships at both Kansas State and Indiana University. He also has been involved in numerous community and professional organizations throughout his career, including Phi Delta Kappa, the American Alliance for Health, Physical Education, Recreation and Dance, and the Red Cross.
He received the School of Health, Physical Education, and Recreation John R. Endwright Alumni Service Award from Indiana University in 2002.