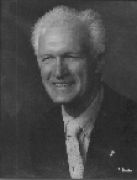 Awards
School of Public Health W.W. Patty Distinguished Alumni Award (1977)
About Richard J. Tiernan
Tiernan, a native of Richmond, Indiana, graduated from Morton High School in 1929. At Morton, he was the recipient of the Billy Sunday Mental Attitude for Athletics, and lettered in football, basketball and baseball.
He attended Indiana University and graduated in 1933. His college honors included: Intramural Wrestling Champion at 175 lbs., letter in football, and president of Lambda Chi Alpha Fraternity.
Tiernan served as head coach at Richmond between the years 1933-1949, only to have his career interrupted by his service as a Naval Officer in the South Pacific during WWII. At Richmond High School, his career football coaching record was 45-44-5.
In 1977, IU School of Health, Physical Education, and Recreation (HPER) bestowed on Tiernan the Distinguished Alumnus Award. He was inducted into the Indiana Football Hall of Fame in June of 1980.