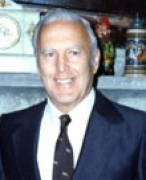 Awards
School of Public Health W.W. Patty Distinguished Alumni Award (1981)
About Fred E. Darling
Dr. Fred E. Darling was a professor and department chair of physical education at Eastern Kentucky University. Dr. Darling spent his undergraduate years at EKU, participating in football, basketball, and track. As a successful football player, he was a first-team Ohio Valley Conference tackle for three seasons and was an All-American choice his senior year. Dr. Darling played on Rom Rankin's undefeated 1940 team and signed professionally with the Detroit Lions of the National Football League after graduation. However, he entered the armed services in the Army Field Artillery and served for five years.
Dr. Darling returned to EKU in 1946 and remained there until his retirement in 1984. He first became an assistant coach in his former coach, Rom Rankin's staff. His coaching experience would later include acting as a line coach under Tom Samuels and Glenn Presnell, helping lead the team to its 1954 undefeated Tangerine Bowl team. In addition to football, Dr. Darling was the head track coach from 1948 to 1958, resigning in 1961 to become a full-time teacher. During his tenure with the track team, he coached EKU's first undefeated track team and won a championship in the Ohio Valley Conference. His leadership at the university helped bring prominence to EKU and he helped in the establishment of Kentucky's first college of health, physical education, recreation and athletics.
Throughout his career, Dr. Darling earned five graduate degrees, including his doctorate from Indiana University in 1958. He also was honored numerous times, including merit awards from Governors Breathitt and Carroll, distinguished alumni awards from EKU and Indiana University, and the National Fitness Award from President Lyndon B. Johnson.