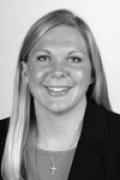 Awards
IUPUI Athletics Hall of Fame (2007)
About Nicole Ellis
Nichole Ellis was a member of IUPUI's first-ever women's swimming team, but made a lasting impression through her achievements and passion for Jaguars' Athletics. Over her four years, she set six school records while winning the 1998-99 Mid-Continent Conference title in the 100 breaststroke.
In all, she had 19 career race wins (5th all-time) while landing on the podium 53 times (3rd all-time). She twice earned All-Conference honors. A four-year letter winner, she served as Team Captain all four years and in 2000-2001 was named Team MVP.
Ellis was a two-time Academic All Mid-Continent Conference honoree and was included on IUPUI's Academic Advisor's List all eight semesters. She was a member of Chi Alpha Sigma National College Athlete Honor Society (1997-2001) and earned the Jaguars Letter Club's Scholastic Achievement Award. In her junior and senior years she was recognized as one of IUPUI's Top 100 students.
She capped her collegiate career by earning the Mel Garland Distinguished Student-Athlete Award, the highest single honor given to a student-athlete.
In her senior year, Ellis served as the keynote speaker at both the student athlete awards program and the Michael A. Carroll Golf Classic, the Jaguars Athletics Club's primary fund-raising activity. Following the completion of her swimming career, she spent a season on the deck as IUPUI's top assistant coach. She earned a Bachelor of Science in Education degree in 2001 and a master's degree in sports administration from Butler University in 2004.
As an alumna, Ellis has continued to be supportive of Jaguars Athletics. She has served as a member of the Jaguars Athletics Club board and is currently a Jaguars Athletics Club member. She also continues to support the Michael A. Carroll Golf Classic as a hole sponsor each year.
Ellis accepted a position as Head Coach of the men's and women's swimming teams at Butler in 2002. In 2004, she moved to the University of Alabama as Assistant Coach and currently serves in a similar role at Northwestern University.