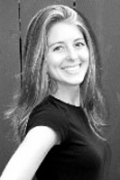 Awards
IUPUI Athletics Hall of Fame (2009)
About Lyndsey Emerson-Hornbrook
Lyndsey Emerson-Hornbrook becomes the first-ever IUPUI Athletics Hall of Fame inductee from the women's cross-country program and remains the most talented runner in its history. The Center Grove High School-product earned four consecutive First Team All Mid-Continent Conference awards and earned the league's Newcomer of the Year award in 2000.
A two-time Mid-Con Runner of the Week recipient, Emerson-Hornbrook held both the 5K and 6K records until 2009 and still owns the 5K record in a time of 18:05. She holds five of the 12 fastest 5K times in school history. In the 6K, Emerson-Hornbrook still holds nine of IUPUI's 15 quickest times in program history.
In 2001, Emerson led the Jaguars to a third-place finish at the Mid-Con Championships, which remains the program's best-ever showing at that event.
Emerson-Hornbrook earned her degree in Psychology in 2004. She and her husband, Chris, live in Chula Vista, California with their child.