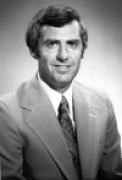 Awards
IUPUI Athletics Hall of Fame (1995)
About Mel Garland
Mel Garland, who became IUPUI's head men's basketball coach and athletic director in 1979, brought excellence to the athletic program and to the University. His 1979-80 basketball team compiled the first winning season in the school's history. In 1983, Mel Garland succumbed to leukemia.
As a student at Arsenal Technical High School in Indianapolis, garland earned recognition as an Indiana All-Star in basketball and as Indianapolis Athlete of the Year. He continued his education at Purdue University, where he excelled in both basketball and baseball, earning national recognition in each sport. Prior to coming to IUPUI, he coached at both the high school and college level.
In recognition of Mel Garland's contribution to the quality of IUPUI's athletic program, each year an athlete is awarded the Mel Garland Memorial Scholarship based on those characteristics that embody the spirit of Mel Garland athletic ability, scholarship, mental attitude, leadership, and perseverance.
Says former IUPUI Athletics Director Hugh Wolf, "In many respects Mel Garland was the person who first caused the Indianapolis community to take notice of the IUPUI athletic program."