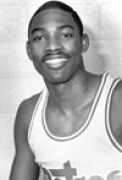 Awards
IUPUI Athletics Hall of Fame (1994)
About Aldray Gibson
As a member of the Metros men's basketball squad from 1983-87, Aldray Gibson was instrumental in developing the team to local and national prominence. During his career at IUPUI, the Metros averaged 17 wins per season, won 20 or more games two of those seasons, and made their first-ever appearance in the NAIA National Men's Basketball Tournament.
Named MVP for three consecutive years, Gibson led the Metros in scoring during that period. Upon the completion of his career at IUPUI, Gibson became the school's then all-time leading scorer. He was the first men's basketball player to be named an NAIA All-American, and he helped to make the IUPUI men's basketball program one of the top NAIA programs in the country.
"IUPUI has given me the chance to achieve goals that I never dreamt possible," said Gibson.