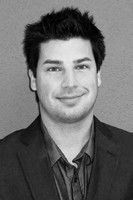 Awards
IUPUI Athletics Hall of Fame (2010)
About Adam Darrow
Adam Darrow, IUPUI's all-time leader for lowest career stroke average (75.15), becomes the first-ever men's golfer inducted into the program's Hall of Fame. Darrow's 74.41 stroke average in 2004-05 remains the third-lowest in school history.
A two-time All Mid-Continent Conference performer, Darrow helped power the Jaguars to the 2005 conference crown by firing a 54-hole 219 (73-75-71) at the Harry Mussatto Golf Course in Macomb, Illinois. His effort fueled a three-shot win over Western Illinois and a spot in the NCAA Tournament.
The Granger, Ind.-native also remains among IUPUI's top 10 all-time in career rounds played (66) and continues to pursue a professional career in Arizona.