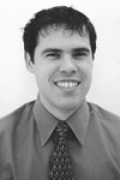 Awards
IUPUI Athletics Hall of Fame (2007)
About Armando Femia
As a freshman, Armando Femia had to battle through two seniors to move to No. 1 on the IUPUI soccer team's goalkeeper depth chart. By the time his career was over, he had set the bar by which all future IUPUI netminders would be measured. In a span of four years, Femia not only broke every IUPUI goalkeeping record, he shattered most of them.
He ended his career with 27 shutouts (in 72 appearances), an .848 save percentage, 33 wins and 452 saves. He holds single-season records for saves (151), minutes (2109:50) and starts (22). He was a three-time First Team All Mid-Continent Conference selection, while earning NSCAA/Adidas All-Great Lakes Region and CSN All-American honors as a senior.
Given his rock-solid consistency in net, he took his game to an entirely different level when it mattered most. He was named to the All Mid-Con tourney team 3 times, earning MVP honors as a junior when his team went on to become the first IUPUI team in any sport to participate in the NCAA tournament.
Femia was just the second player in Mid-Con history to be invited to play in the Umbro Select All-Star Classic. Following his college career, he was chosen by the Richmond (VA) Kickers in the A-League draft and later played for the Indiana Blast. He returned to the IUPUI sidelines as a goalkeeper's instructor for 2003 and 2004. He becomes the third men's soccer player inducted into the IUPUI Athletics Hall of Fame.
Femia earned a Bachelor of Science degree in business from the Kelley School of Business at IUPUI, where he was named to the Dean's List in the spring of 2003. Since August 2004, he has been employed by Atlas Restaurant Supply in Indianapolis.
"IUPUI has allowed me to fulfill my dream academically and professionally," Femia said. "It has opened the door to many opportunities, and most of all, lasting friendships. Being part of the Jaguars family and the University has been an honor."