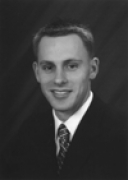 Awards
IUPUI Athletics Hall of Fame (2006)
About Thies Hermann
Not only did Thies Hermann end his career as the most prolific goal scorer in IUPUI history, he capped his four-years with the most influential goal ever at the institution. Hermann finished his playing career with a school record 108 points and 46 goals, 15 of which were of the game-winning variety. He also racked up 16 assists and six multi-goal games in an IUPUI uniform.
Hermann's freshman season in which he scored 17 goals is tied for second on IUPUI's single-season scoring list, while he capped his career with 16 goals in 2000. He was a three-time First Team All Mid-Continent Conference selection and was twice picked to the league's All-Tournament Team. He was also named All-Region, both at the Division I and Division II levels.
But the one goal that capped Hermann's career still reins as one of the most prominent moments in IUPUI Athletics history. The lightning quick forward rolled a shot into the lower left-hand corner of the net in the third overtime of an NCAA Play-In game against Marist on Nov. 11, 2000 to send the Jaguars to its first-ever NCAA Tournament berth in any sport.
Hermann ranks among the school's leaders in games played (75), games started (73) and shot attempts (218). He holds the Division I single-season records in shots (72), game-winners (6) and goals (16), all set his senior year.
Academically, Hermann was named among IUPUI's Top 100 students his senior year and graduated with his B.S. in marketing, international studies and distribution management. He went on to receive his Master's in Sports Administration from Xavier University in 2005.
He recently took over as Director of Operations for the Cincinnati Kings in the United Soccer League.
Hermann says, "IUPUI has opened many doors and provided me with opportunities to excel and grow. It has given me a home away from home and many great memories. I would like to thank everyone who made this possible."