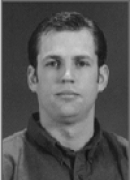 Awards
IUPUI Athletics Hall of Fame (2002)
About Jared Lux
Jared N. Lux etched his name in the IUPUI record books as a member of the men's basketball team from 1992-1996. He is the fourth all-time leading scorer (1,558), fourth in career assists (333), seventh in career assists per game (3.0), ninth in career rebounds (467), ninth in career scoring average (14.0), sixth in career field goals made (560), seventh in career field goals attempted (1,034), sixth in career field goal percentage (.542), fourth in career free throws made (344), fifth in career free throws attempted (473), seventh in career 3-point field goals made (94), fourth in career 3-point field goals attempted (260), and ninth in career steals (118). He was also a member of the baseball team for one season.
During his four years at IUPUI, Jared participated in the IUPUI mentoring program as well as the United Way Day of Caring. In his senior year, Jared was the recipient of the prestigious Mel Garland award.
A 1997 graduate with a Bachelor of Science degree in Education, Jared is employed by Culpeper Wood Preservers. In addition, he serves as a volunteer assistant coach with this year's basketball team.
Jared and his wife, Leigh, reside in Shelbyville with their children, Anastasia, 4, and Damon, 2. They are expecting their third child in May.
He says, "The University has been very important in my life. It provided me the opportunity for a great education, and in return, I tried to represent the School to the best of my ability on the playing floor. I truly appreciate what the University provided, not only for me, but also for my friends, teammates, and coaches."