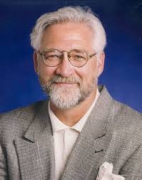 Awards
IUPUI Athletics Hall of Fame (1996)
About Bob Lovell
Bob Lovell earns his berth in the IUPUI Athletic Hall of Fame as former athletic director and the winningest coach in IUPUI history. During his 12-year at the helm of the men's basketball team, the Metros became an NAIA District contender and earned national respect.
Lovell led the team to district championships in 1985 and 1990, a runner-up title in 1992-93 and to the NAIA Final 16 in 1990. His team's 24-12 finish in 1987-88 broke records for the most wins and the fewest losses in school history.
Beyond expertise in the technical aspects of the game, Lovell earned his players' respect for larger lessons that proved valuable on and off the court. He developed the Metro's Mentor Program, in which members of the men's and women's squads visited children at elementary schools. He continually taught his players about life and its trials as well as the game of basketball.
As athletic director, Lovell was instrumental in developing intercollegiate athletics at IUPUI. He came to Indianapolis from his alma mater, Franklin College, where he compiled a 75-29 record in four years. Lovell now works for Horizon League and Wabash Valley Broadcasting-Network Indiana.