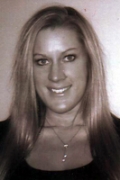 Awards
IUPUI Athletics Hall of Fame (2009)
About Rebekah Pallikan
Rebekah Pallikan was a two-time Mid-Con Player of the Year and graduated with the IUPUI Athletics Department's highest honor by being awarded the Mel Garland Distinguished Student-Athlete Award in 2004.
Despite playing through two injury marred seasons, Pallikan ranks fourth all-time in total kills (1,088), holds the school record for kills per game (4.27) and is second in attack attempts per game (11.02). She also holds the single-season records for kills (546), kills per game (4.89), attack attempts (1,409) and attack attempts per game (12.49). Pallikan was also a two-time Mid-Con All-Tournament Team selection and a four-time conference Player of the Week honoree. After her record setting junior season, the Indianapolis-native was an Honorable Mention AVCA All-Region selection.
Academically, Pallikan was named to the Academic Advisor's List six times in eight semesters of eligibility.
She earned her degree in 2004 and is a real estate agent for Sunblest Investments LLC in Indianapolis. She becomes the third volleyball inductee, joining Marcy Bixler and Cory Pepperworth-Rainbolt.